From whatever country they were born, or environment they were born into, all children are born with a natural ability and inclination to sing and dance. Famed children's music researcher, teacher, author and lecturer Dr. Edwin E. Gordon concluded that until age 9, children are in the developmental stage of their music aptitude and disposition. Throughout this time, parents and teachers have a great impact on how musical a child will be for life.
In this series on the Pathway to Music Literacy, we have explored the various foundations and methodology that make children's music curriculum successful, touching last on the connection between music and movement. In this final installment, we'll sum up how nurturing all these basic music skills prepares children for a pathway to independent musicianship and enduring music-making capabilities.
Aural Preparation is Key to Music Development
Just as language begins in children with aural preparation, music also starts as an aural reality for the child. Only after this reality exists is the child able to then read and write language, or understand the written form of music in notation. Just as words are the building blocks of language, tonal and rhythm patterns comprise the vocabulary of musical language. Once children become familiar with these patterns, they love playing aural games that apply both a neutral, chanted syllable, or in the context of a familiar song.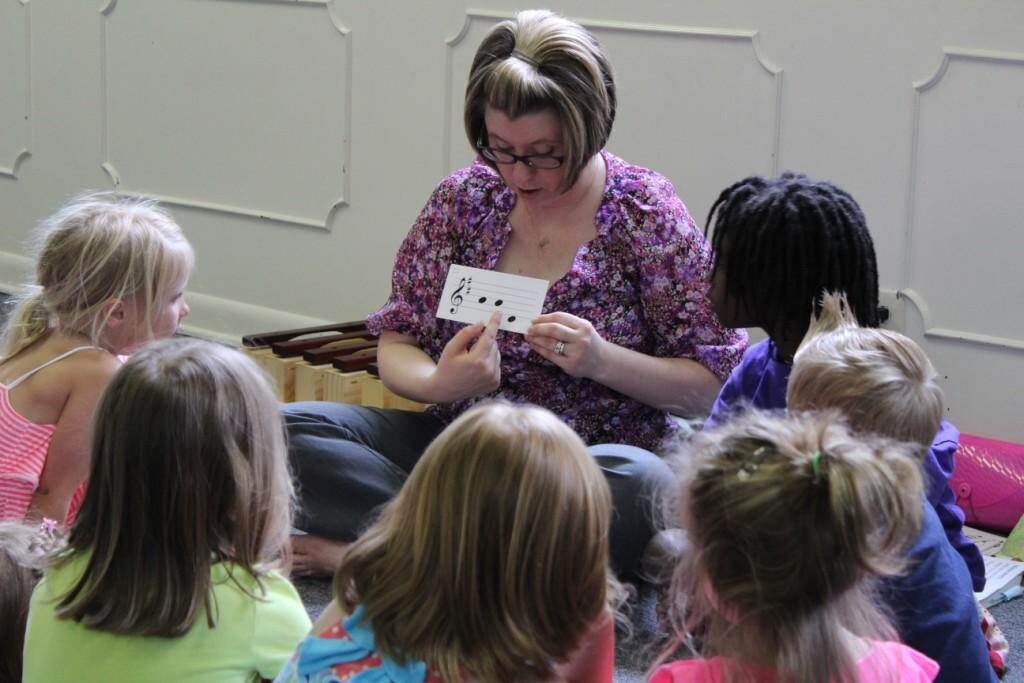 Teaching Children to Write and Read Music
Once children are able to understand and play aural games, they are ready to see those familiar patterns in symbols. Active, participatory notation games show these symbols to the children on a sensory motor level. With repetition comes understanding, and as they begin to be able to discriminate between several familiar patterns, they can be further challenged to find the same patterns in unfamiliar songs. Instead of simply decoding, they are actually reading with comprehension. Notation games of listening and responding to a series of patterns also teach children to take dictation and write out songs they know so well.
Assessing the Pathway to Music for Children
In early childhood music education, accurate assessment is crucial in knowing how to lead children on their pathway to music literacy. Through a series of steps, music teachers can determine specific pre-requisites to determine a child's readiness. Once those steps have been mastered, children will be able to look at an unfamiliar piece of music and do the following:
Identify the familiar patterns within the song
By making inferences, they will figure out the unfamiliar patterns
Hear the music in their heads
This approach prompts children to begin to think in the language of music, and play it on the keyboard.
Instilling Music Improvisation and Composition in Children
As children learn to manipulate words, phrases, speak, and write complete sentences, they gain a better understanding and eventually become conversant. The same is true in the pathway to music literacy. By first understanding rhythmic and tonal patterns, recognizing these in the form of notation symbols, and then learning to write these patterns, children obtain the ability to start to manipulate and improvise. Once they begin to improvise patterns, they can begin to improvise phrases and eventually parts of a composition.
Through this improvisation, children become musically fluent and can contribute a musical
thought in the appropriate tonality, meter, and style. It is when they gain this intuition of musical patterns that children can truly improvise and compose through Music Literacy.
Much of the content for this post was based on the introduction to Music Makers: at The Keyboard, childhood music curriculum developed by Musikgarten.