Many of us have memories of piano teachers that used metronomes meticulously, or in some cases beat on the edge of the piano with a ruler as we struggled to play in time. While some of their methods may seem old-fashioned today, there was a very important underlying purpose of teaching time and meter. However, many early childhood music programs today understand that singing and movement not only naturally teaches beat, but also a myriad of other benefits to childhood development. In this second installment on our series about Music Literacy and the keyboard, we explore how for these and other reasons singing prepares children for learning to play keyboard.
Learning Piano Through Familiar Songs
Singing helps children to develop a repertoire of familiar songs. Children enjoy singing, and the more they sing the more they want to sing. As they progress to learning the keyboard, both the love of singing and having a good foundation of songs allows for greater success – because they want to play the song that is so familiar.
Singing Helps with Beat, Meter, Tonality, and Patterns
There is an abundance of research and publications that demonstrate how singing helps children with literacy, and that includes music literacy at the keyboard. There are several ways in which singing helps children be more successful learning the piano:
From the very earliest stages of childhood babies listen and often echo their caregivers' song patterns, providing initial steps to music literacy.
Just as your old piano teacher may have done, tapping the beat while singing helps foster beat confidence.
Simple body movements, such as rocking from side to side helps establish a basis for understanding meter – like a human metronome!
Inviting children to sing the resting tone at the end of songs help to create an understanding of tonality.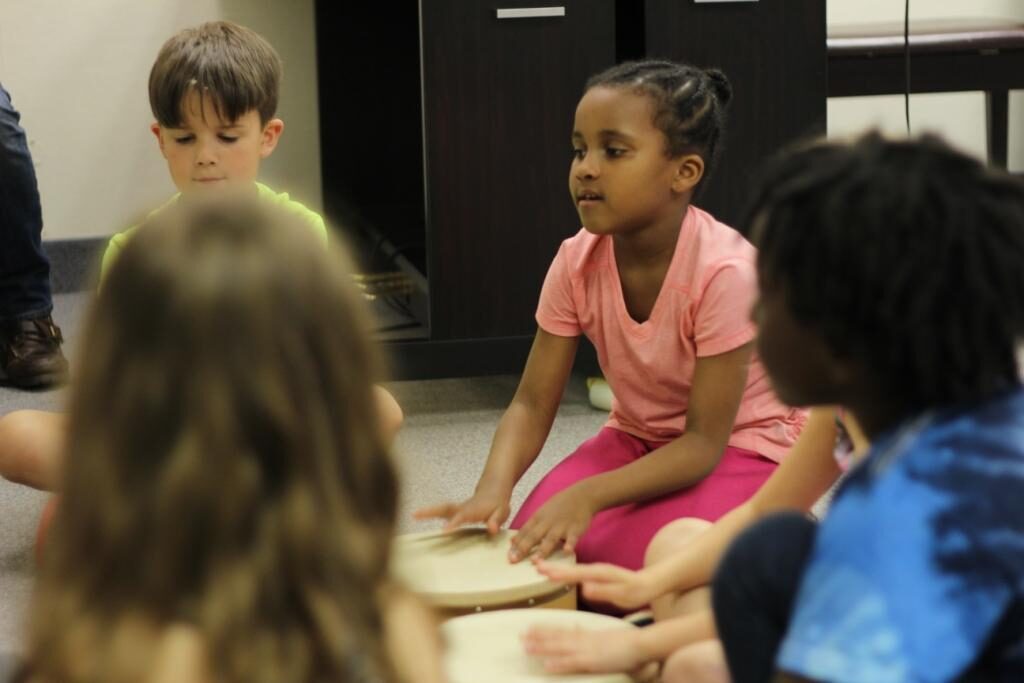 Teaching Songs through Vocal Quality Nourishes Children's Music Sensitivity
Children's Music Teachers pay particular attention to their own voices in order to help children to develop a sensitivity for musical keys, tones, and pitches. Several ways that teachers ensure vocal quality are:
Singing mostly without music, so that the vocal quality is the focus
Singing clearly, but also lightly so as not to dominate the singing of the group
Listening to ones voice for proper intonation, so that the song model is tonality exact
Pitching songs in the range in which they are suggested
Modeling good singing posture, even when sitting
Singing with vocal quality offers an excellent opportunity for children's music teachers to model expressive musicianship. Establishing a relationship between familiar songs that children can sing and what they will play on the keyboard allows them to echo the melodic and rhythmic patterns which make up each song. This allows them to eventually figure out how to play their favorite songs, which is well exemplified by the Montessori approach of self-learning. The child's ear becomes the "self-correcting instrument," guiding the hands what to play.
Singing familiar songs throughout early childhood helps to provide a strong foundation for the understanding of beat, meter, tones, and patterns. And with the five-finger position provided on a keyboard allows children to move more easily to tetrachord and scale positions. Because their playing originates from a familiarity of songs and singing, as a result they more easily translate and play the songs in many keys.
Much of the content for this post was based on the introduction to Music Makers: at the Keyboard, childhood music curriculum developed by Musikgarten.