Charitable giving plummeted 10.5% since 2021. While this decline was across the board with corporations and foundations, giving by individuals fell by an even steeper amount of 13.4%, adjusting for inflation. It's important to note that Americans gave generously during the pandemic, with record-setting giving between 2019 and 2020, so non-profits and charitable organizations can only hope this recent decline is temporary. After all, Americans have a great history of charitable donations, and one which has been passed down from generation to generation. In this season of giving, it's important to model and teach children about the importance of giving back to others.
Tips for Raising Generous Children
From early childhood children tend to be self-involved, making sure that their immediate needs are met by the caregivers surrounding them. But as they grow older, its important that those caregivers play an important role in helping kids develop generosity by encouragement and example. Here are some guiding principles in helping children develop a lifetime of charitable giving:
Encourage empathy – Helping children to imaging how others feel is the starting point of generosity. Parents should seek out opportunities to encourage empathy, from everyday situations such as a sibling squabble, or in more structured giving such as participating in a food or clothing drive.
Set an example – Kids look to parents and other caregivers for clues on how to behave. While encouragement is extremely important, modeling generous behavior such as visiting sick relatives, volunteering at a charitable organization, or even pitching in with household chores, shows children first-hand that you really mean what you say.
Select a Charity – Let your children experience first-hand what it feels like to give time to a cause. Encourage them help to select a charity that the entire family can participate in, ideally one benefitting children of their own ages. When kids give to those they closely relate with, their empathy grows even stronger.
Teaching Children Generosity in the Music Classroom
Children's music programs offer a unique opportunity for kids to learn about giving and generosity. With encouragement and guidance from the early childhood music teacher, they can learn the gift of giving in the following ways:
Taking turns singing and dancing while encouraging others after their turn.
Taking turns playing and sharing instruments.
Selecting and working together as a class on a charitable cause.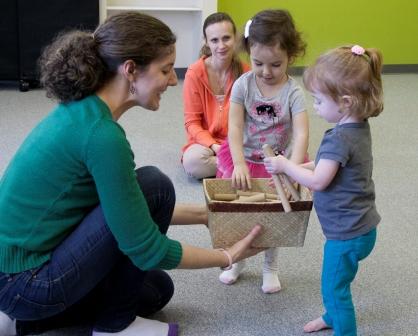 Teaching generosity to children is a gift that they will practice their entire lives, and which others will surely benefit. Through explaining empathy, modeling by example, and providing children opportunities to give to others, caregivers can ensure that their child will be a more thoughtful and generous member of society.