As a young piano teacher, I was taught that the most successful recipe for learning to play the piano was to encourage the triangle of support from student to teacher, teacher to parent, and parent to student.  When any of these sides become weak, the process becomes more difficult for all.  Then reality set in. I faced a problem many piano teachers lament.  The parent would drop off their student, hopefully on time, and later pick up their student, hopefully on time, but their involvement ended there.  Even though the child received a weekly written homework assignment of what to practice at home, more than likely the only one benefitting from this paper was a hungry dog.  I was entertained with threats indirectly aimed at me as the exasperated parent would lecture the sullen child, "If you don't practice the piano, I am not going to invest any more money for lessons".   Unlike an orchestral triangle, my triangle was thudding, not dinging.
Adding Musikgarten classes to my piano studio makes this triangle so much more fun to manage.  By bringing families into my studio to share music with me, I could now direct appropriate music making. Families receive a marvelous CD, or digital download, of music for them to sing and dance with all week. Ultimately I form a lasting relationship starting in my early childhood classes and moving through the program and beyond into my private piano program.
In a Musikgarten class, a community is sharing music and magic is in the air.  Below are some of the benefits from each perspective of the musical triangle:
Teacher:
Gets to know the whole family in the music class setting.
Becomes familiar and can work with their high/low and out of tune voices, and can adapt the program to work with the laid back family or the families that giggle and jiggle along.
Long term relationships are formed in a Musikgarten class and the triangle is strengthened. This musical relationship can go on for nine years in the Musikgarten curriculum and beyond in traditional lessons. When that student finally graduates from high school and adds music to their college course load all can shed tears of congratulations.
Gets to share something once to a group rather than 8 times to individual lessons. And the punch of the content is much more effective in the group.  No more telling a student who may or may not tell the parent.
Parent:
Receives firsthand experience of what is happening when their child is learning music.
Learns alongside their child and may even relearn what they were taught as a child.
Receives a quality recording and doesn't have to entertain their child with solo performance of singing.
Know they have made a sound musical choice for their child that will go well beyond the early childhood years and gracefully bridge their children on to formal lessons.
And Students?
LOVE having their parents and siblings alongside as they share music.
Know they can share this music at home and the family will be familiar with the songs and dances.
Can dance, sing, and play musical instruments along with their friends.
Freely fall in love with their music teacher, can dream of learning to play an instrument and get to share music throughout their whole lives (although they don't know about this surprise yet!)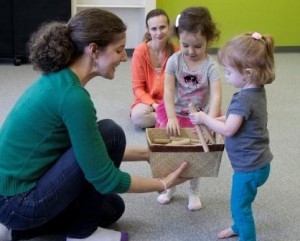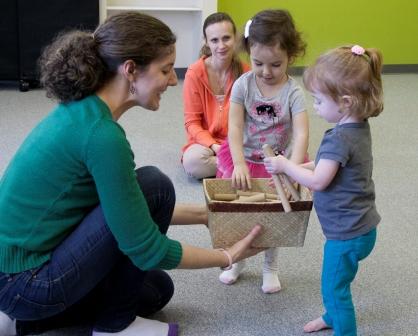 There are so few experiences in our culture wherewe get to really know the teacher the way a Musikgarten class can provide this access.
If you are a teacher, I hope you add these ideas to your list of talking points. If you are a parent, I hope you will see the lifelong benefits of Musikgarten
And if you have, share the benefits you have enjoyed.