The time to start experiencing music is in early childhood; the place is in the family. Home is the first and most important school for children, and involved parents are the most effective teachers. Adults are learning how to interact effectively and easily with children through music, and families are growing together musically. This is good for children and good for families. (Musikgarten, Family Music for Toddlers, On a Trip, 2016)
When I teach a music class for toddlers I must acknowledge the elephant in the room.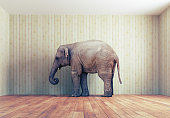 Next to, or nearby, every toddler attending class is an adult. This adult could be a parent, a caregiver, an uncle or a grandparent, but what do they all have in common? They are no longer toddlers and therefore have completely different musical needs from a toddler. They may be agreeing to sit in a toddler class but does that mean they need to sing along, dance along and play along? Wouldn't they rather grab their cell phone, find a corner and start Facebooking? What can you do to keep those parents from herding into a corner and starting a gossip circle?
News Flash! You are not only about to teach a toddler music class, but also teach music to adults. So let's first address the question,
"Why do Musikgarten family toddler classes include a loving adult for each toddler in the room?"
The adult links you, the teacher, to their child. For instance, you will demonstrate a steady beat by bouncing your stuffed animal and the adult will bounce their child the same way, instilling that steady beat.
The adults join in a community chorus of singing and participating that surrounds the toddler with hopes that one day s/he will feel comfortable joining.
The adult creates a space that becomes a safe zone for the toddler. Within that space the child feels most comfortable; in their comfort space they can best learn.
The adult makes logistics easier in the classroom. Imagine walking into a classroom filled with 12 roving toddlers and no adults. Bounce along? Maybe one at a time if you can catch one. Sing to them? They won't sing back and will stare at you with a lost look. Sit in a circle? What's a circle? Hand out sticks? Could be dangerous. Ask them to Walk and Stop? Good luck. Try pulling out that drum. Bam, oof, watch out!
Teachers agree: The parent is the channel through which you instill the heart and life of the Musikgarten program.
When the parent participates in class, the class is moving and grooving. When they sit back and watch or zone out your class is compromised. So your parents need to know this and you need to acknowledge their presence and worth. They already have a clue that music is wonderful and significant for their children. They have heard that music is part of a well-rounded education and it makes a significant difference in the lives of children.  Now the participating adults need to know they are the magic key to accessing the music education in your classroom. So what can we do as teachers to help the parents feel their value?
Make sure you have spoken to every parent that plans to attend either on the phone or at a parent's meeting. Besides reminding them about arriving on time, washing hands, and taking off shoes, they need to learn to enter the studio with excitement and anticipation, leaving the worries and cares outside the door, along with their cell phone.
Before class begins, set the mood by having the CD for the program playing softly. So often I have parents walk in and begin to sing along with music. This is marvelous proof that they have been doing their homework and playing that recorded music often enough that they know the words.
Room should be free of clutter and all toddler distractions put away. Remind the parents to leave all toys and food outside of the room. Stuffed animals that sneak in under a child's arm gets invited to watch on my piano. Invite them to sit on your clean carpet or floor. Maybe have a drum or other classroom instrument to explore. Note: I keep that instrument with me at all times.
Begin the class on time. I can't emphasize this enough and tell the parents that we always begin on time. Note: I say this every week and also mention this at the end of class.
Ask the parents to gather up their wandering children to form a close-knit circle.
Quietly remind the parents that you are modeling all movement and they are expected to sing and move just like me. Mention this for many weeks – not just the first week! Note: I do not go into the discussion of "But I can't sing" at this time.
Sing the opening song quietly with a smile.
Keep a slow tempo and make sure you have had eye contact with each parent and hopefully with each child.
As the class progresses you will deal with individual needs and issues: roving toddlers, toddlers that need some quiet time in the waiting room, chatty parents, non-participating parents, etc.
End on time, acknowledge the class, and invite them back for next week's class.
As parents leave, take care of any business. Note: I sometimes choose to call or email business related items later and keep the goodbyes pure.
As rapport grows, encourage parents to sing more and more in class. First encourage the ancient word, "la" and then urge the parents to eventually sing the words. Repeat a verse so that parents can sing along. Note: I make sure I drop out for a verse or sing quietly along, promoting their musical participation.
There are a few ways to communicate to parents between class and this is a great way to smooth out any miscommunications or to continue to educate parents about music class.
A follow up phone call
Through emails or handouts
Indirectly through the encouraged use of the CD or downloaded music at home
By making the parent the most valuable asset, you are investing in your studio because these are the parent who will return next semester and the year after that.  Eventually you will have a base from which you can teach all that Musikgarten has to offer.
Make this your first step towards establishing your music studio.  You will reap the rewards of all your hard work.
Question:  What have you found to be the most effective way to guide your parents into joyful music making in your classroom?