Hermann Karl Friedrich Heyge
November 26, 1935, Ilmenau – February 4, 2021, Weimar
"The hour of departure has arrived and we go our ways; I to die, and you to live." (Socrates)
The Musikgarten family wishes to extend its deepest sympathy to Lorna Heyge on the passing of her beloved husband Hermann Heyge at their home in Weimar, Germany.
Hermann was a precious soul with a funny, quick wit. All who were fortunate to meet Hermann knew him as someone who was always open to a good conversation and willing to go out of his way to make you comfortable. An engineer by trade, he loved music, was an avid cyclist and always supported Lorna's work.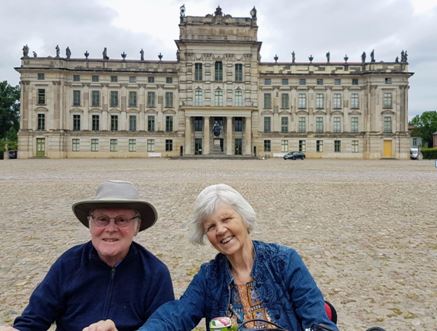 For the past 10 years, Hermann faced his illness of dementia with dignity and grace. At every stage he participated in as many ways and in everything possible.
If you have a memory of Hermann you would like to share with Lorna, please email to info@musikgarten.org and write Hermann Heyge in the subject line.
We will all fondly remember the "gentle man with the twinkle in his eye".
Sincerely,
Jeff, Denise, Billy, Felicia, and Leah
Musikgarten